---
I am driven obsessively to create artworks which nourish the human spirit, celebrate the wonders of Nature and provide enjoyment, stimulation and a touch of magic to our lives.
I believe that for a meaningful existence we human beings need more than just the basic necessities of food, shelter and security. Once we have made sure that we have these necessary material possessions, we then must look after our intellectual curiosity, express our aspirations and nurture our emotional and spiritual wellbeing.
That is, we need to rise above the mundane, the ordinary and the daily drudgery of survival. This is where the arts become a necessary factor. Engagement with literature, theatre, music and the visual arts provide great opportunities to satisfy our creative urges and at the same time we can find lasting enjoyment.
---
Themes, painting series and periods
---
Whilst I like to explore vastly different 'styles' and approaches in my artwork, there are obvious recurring 'themes' which I pursue. Examples of my themes as expressed in my landscape and abstract paintings are water, desert, wilderness and flora.
Examples of these series are: 'spectrum colour shifts', patterns and minimalist colour-fields.
---
"When considering which artists influenced him, Gerzabek says he most admires Van Gogh's intensity and use of colour to stir up emotions, Paul Klee's sensitivity and insight into our inner beings, Kandinsky's exuberance and sense of composition, Picasso's inventiveness and broad range of interests.
"As for Australian artists, he loves John Olsen's playful and imaginative approach, Fred Williams' ability to abstract the essential elements of a landscape, and last but not least, Emily Kngwarreye's instinctive mastery of colour, structure and connection to Country." -- (quote from exhibition catalogue 2004)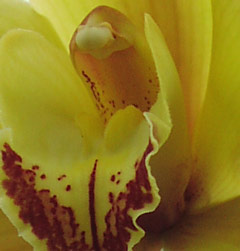 Orchid, photo by Ernie Gerzabek