Abstract Landscape Paintings - Art Gallery

Contemporary landscapes, seascapes, abstracts, beach and ocean paintings for sale.
Large selection of original and affordable art paintings, bas-reliefs, sculptures and works on paper
available online or direct from artist Sydney studio gallery. Modern, original and unique Australian fine art.
---
Home Favourites New Work Water & Desert Flora Themes Affordable Art Abstracts Sculptures Digital
About Exhibitions Ideas Your Say Art Friends Quotes Links Photos Contact Blog
---
stock taking clearance sale - up to 50% discount on selected artworks
---
---
| | | | |
| --- | --- | --- | --- |
| | | | |
---
| | | | |
| --- | --- | --- | --- |
| | | | |
---
Welcome to the art gallery
---
This online gallery has a wide range of contemporary original landscape and seascape paintings, abstract artworks, modern three dimensional pieces and bas-relief wall sculptures, minimalist art, geometric designs and affordable acrylic works on paper.

I have numerous decorative artworks, including abstract, landscape and flower paintings in a great variety of styles. My acrylic paintings show a variety of vastly different artistic approaches.

In my art practice the emphasis is on celebrating the beauty of Nature.

I tend to explore different aspects of artistic creativity rather than produce technically perfect reproductions of what the eye sees.

Most of my contemporary art paintings and recycled timber sculptures are for sale at competitive prices. Look through the wide selection of art pieces on offer and feel free to select your favourite pieces.

You might find the experience enjoyable:- the pieces on show are happy and optimistic and spiritually uplifting. Feel free to comment and contact me and arrange a visit to my studio gallery. You are most welcome, hope to hear from you soon
---
More art related subject matters
---
BIOGRAPHY I started painting in 1970 while practising as a Chartered Architect. I have exhibited in various group and solo shows ever since. I retired from Architecture in 1997 to paint and sculpt full time... about me the artist and my work

MY PHILOSOPHY As a professional artist, I am driven obsessively to create artworks which celebrate the beauty of Nature, nourish the human spirit, and provide enjoyment, stimulation and a touch of magic in people's lives...
about my approach to creativity

INFLUENCES Famous international artists I most admire include Cezanne, van Gogh, Klee, Picasso, Pollock, Monet, Kandinsky and Turner. Generally, I just love post impressionists, abstract expressionists and Indigenous Australian aboriginal artists ... my artistic influences

ADVICE Many emerging artists and art students ask for my advice. They may have learned about art materials and techniques in art schools, but they also want to know how to approach creativity. My advice focuses on how to liberate their innate creativity. I summarized my advice in "Master's tips", see advice to students and emerging artists

GUESTBOOK "Your paintings arrived undamaged and it was a revelation how much better they look 'in the flesh' as compared to the images on your website. We are most happy with the 3 paintings purchased. We also would like to compliment you on your professional approach and organising the speedy delivery ..." read more guestbook entries and testimonials

LARGER PAINTINGS see a selection of paintings over 100cm in size larger paintings.

VINTAGE PAINTINGS FROM THE ARCHIVES I recently scanned some slides of my paintings from the seventies. Most of them sold or given to friends as gifts. See these images

CHARITIES To date I have donated many art works to selected charities, including four paintings to Jeans for Genes Charity Art Auctions - in support of the Children's Medical Research Institute in Sydney. I always welcome to requests of donating paintings to worthy causes. This is one way to repay my debt to society and to help others less fortunate than me.

FREE OFFER Purchasers who spend $500 or more may choose a free copy of a music DVD featuring images of my artworks on the covers. Twenty eight of these DVDs have been released by Opus Arte (an arm of the BBC) which feature Australian Opera productions filmed for television in association with the Australian Broadcasting Corporation... music ballet DVDs

SELECTING AND PLACING ARTWORKS professional advice provided - DOs and DON'Ts tips

QUOTATIONS "Abstract art should be enjoyed just as music is enjoyed – after a while you may like it or you may not." - Jackson Pollock
quotes on creativity, art, painting and abstraction

ABSTRACT LANDSCAPE PAINTINGS see my article published in the contemporary-art-dialogue.com web

EXAMPLES of subject matters in this web include: contemporary and abstract seascapes, abstract landscape paintings, minimalist paintings, abstract art, contemporary landscape artists, famous artists, famous paintings, using recycled materials, abstract art paintings, beach paintings and famous painters, professional visual artists.

EXHIBITION PHOTOS a selection of photos from exhibitions held at Glen Street Theatre and Dale Thomas Gallery
---
The principles I follow as an artist
---
Preface
As a contemporary Sydney artist, this short manifesto is meant to summarize some of my beliefs about creativity in the visual arts. These are principles I follow generally and the points I listed are not meant to be a formula or recipe for creating masterpieces. They are just reminders for myself so as to avoid the usual pitfalls artists encounter.

Having found these principles useful in my career as a professional artist for over thirty years, I decided to share them with other interested artists and students.

I believe this list is open for debate and I invite all and sundry to discuss the issues raised. Ultimately my philosophy is for my own use and it may be meaningless for anybody else.

So, here are my guidelines I follow:

Capture the essentials and ignore the insignificant
Try to capture the essential elements of a visual experience. Ignore the superfluous bits and eliminate unnecessary details. Focus on the critical aspects of the subject and capture only the significant and lasting characteristics.

Never compete with the camera
Reproducing accurately what the eye sees is not necessarily artistic creativity. Technical proficiency may only produce an impressive illustration. A musical composer does not merely reproduce the sounds heard in nature, but creates a composition from his heart.

Be interested in only creating images which reflect your subjective response to places, or express your feelings and capture the mood of being there.

Abstract art is treated like music
Good abstract painters use the same basic principles as composers of music -- balanced composition, integrity, mood, tone, colour, texture, rhythm, harmony, contrast, balance, tension, counterpoint and so on. The objective is the same: creating a mood, arousing a feeling, stirring the emotions.

Venture beyond the comfort zone
Do not be content to settle into a commercially successful and 'easy' style. Refuse to limit your output to 'much of the same' thus avoiding the use of a tired old formula. Chose to move beyond the safe comfort zone. Search for variety, revel in the excitement of discovering something new and unfamiliar; and also learn to experiment with future possibilities.

Express the joy for living
Let colour help express the thrill of being alive. Access your sacred gift of intuition and honour your creative spirit. Then you will have a wonderful opportunity to create meaningful and optimistic images to make people happy.

For me as an artist the real achievement is when people tell me that my artworks speak to them, when my creations touch their hearts and spirit. When my paintings wash away the sweat and dust of their stressful working days, I am happy.

The essential ingredient
As my abstract artist friend Ted Knerr reminded me, there is another crucial element to creativity. This is not something you can just conjure up from your head. To paraphrase him: real art comes from inspiration, and valid art-appreciation comes first from a gut reaction which in turn comes from one's spiritual condition.

Great art can come from the uneducated but quietly enlightened, and bad art from the highly trained but disconnected from the soul; so education can be a plus or a minus, but soul connection is an indispensable prerequisite for an artist's creativity.

See also my ideas on:

Artworks in interior design - the final touch
---
---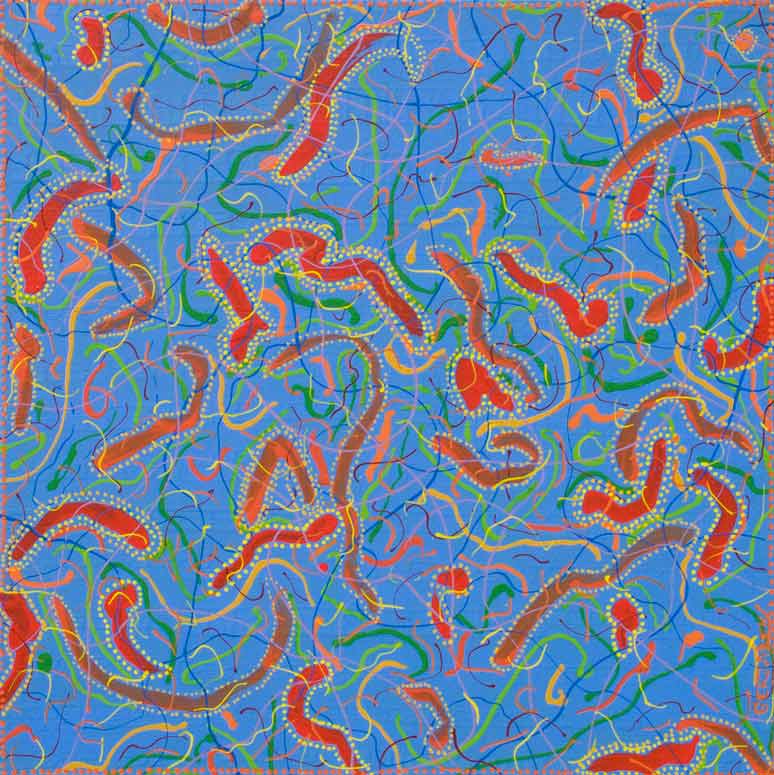 810 Happy cellscape
36x36in / 91x91cm, acrylic / canvas, self-framed
---
Top artists of the 20th century to now - as voted by readers of The Times newspaper
---
Pablo Picasso

Paul Cezanne

Gustav Klimt

Claude Monet

Marcel Duchamp

Henri Matisse

Jackson Pollock

Andy Warhol

Willem De Kooning

Piet Mondrian

Paul Gauguin

Francis Bacon

Robert Rauschenberg

Georges Braque

Wassily Kandinsky

Constantin Brancusi

Kasimir Malevich

Jasper Johns

Frida Kahlo

Martin Kippenberger

Paul Klee

Egon Schiele

Donald Judd

Bruce Nauman

Claes Oldenburg

Alberto Giacometti

Salvador Dalí

Auguste Rodin

Mark Rothko

Edward Hopper

Lucian Freud

Richard Serra

Rene Magritte

David Hockney

Philip Guston

Henri Cartier-Bresson

Pierre Bonnard

Jean-Michel Basquiat

Max Ernst

Diane Arbus

Georgia O'Keeffe

Cy Twombly

Max Beckmann

Barnett Newman

Giorgio De Chirico

Roy Lichtenstein

Edvard Munch

Pierre Auguste Renoir

Man Ray

Richard Hamilton

Henry Moore

Cindy Sherman

Jeff Koons

Tracey Emin

Damien Hirst

Yves Klein

Henri Rousseau

Chaim Soutine

Arshile Gorky

Amedeo Modigliani

Umberto Boccioni

Jean Dubuffet

Eva Hesse

Edouard Vuillard

Carl Andre

Juan Gris

Lucio Fontana

Franz Kline

David Smith

Joseph Beuys

Alexander Calder

Louise Bourgeois

Marc Chagall

Gerhard Richter

Balthus

Joan Miro

Ernst Ludwig Kirchner

Frank Stella

Georg Baselitz

Francis Picabia

Jenny Saville

Dan Flavin

Alfred Stieglitz

Anselm Kiefer

Matthew Barney

George Grosz

Bernd And Hilla Becher

Sigmar Polke

Brice Marden

Maurizio Cattelan

Sol LeWitt

Chuck Close

Edward Weston

Joseph Cornell

Karel Appel

Bridget Riley

Alexander Archipenko

Anthony Caro

Clyfford Still

Luc Tuymans
---
---
Do not copy content from this web without written authorisation. Plagiarism will be detected by COPYSCAPE
---
| | | |
| --- | --- | --- |
| © Ernie Gerzabek 1999-2016 | | Abstract Landscape Paintings Gallery |
---
This Abstract Landscape Paintings website is an artist managed art gallery which exhibits contemporary landscapes, seascapes,
abstracts, beach and ocean paintings. A large range of original and affordable artworks, flower paintings, bas-reliefs and
sculptures are offered for sale. This artist studio gallery in Sydney features Australian art by distinctive painters and sculptors.
Most pieces are for sale, here on the Northern Beaches in Sydney and direct from the artist studio. We are selling colourful original abstract
seascapes, mixed media and also aboriginal art inspired abstract paintings. Applicable keywords and phrases include: what is abstract art,
modern masters, fine arts, online gallery, art exhibitions, pictures, buying contemporary paintings, and art for sale. Reference is also made to subjects,
such as art painter, original paintings, art theory, collectable art, floral paintings, online sale of paintings and a very popular painting titled Joyscape.